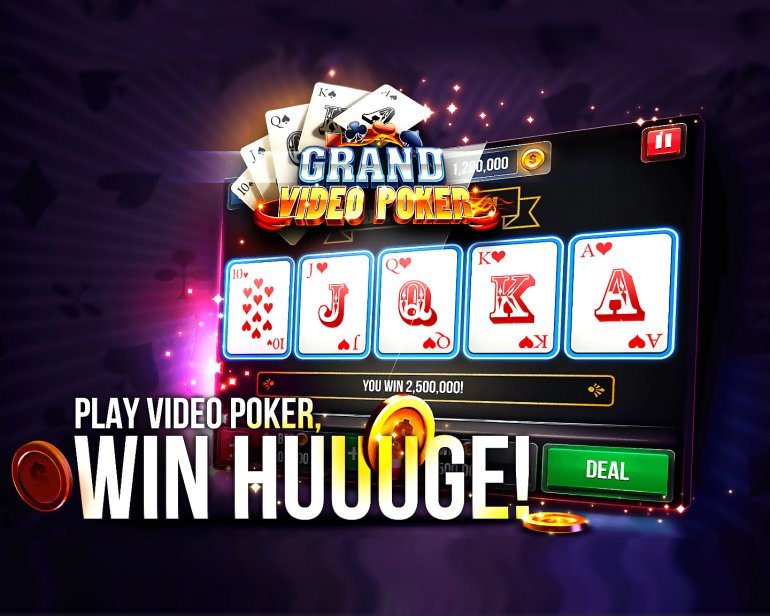 This article will explain video poker basics so that every Casinoz reader understands the game rules, mechanics, and other features.
If you have seen video poker in offline casinos, you know it looks like a video slot with a poker game on the screen. Video poker machines in online casinos are the same. The only difference is that they do not have physical bodies and are just computer programs.
The Difference between Video Poker and Video Slots
The main difference between these two games is that video poker is still a kind of poker. It can be considered a version of five-card poker where the player has no opponents, and the goal is to receive a winning card combination.
However, slot machines can also be based on poker. Some Casinoz reviews describe video slots where you must form a poker combination on an active pay line to get a payout.
Those slot machines are similar to video poker, but they are slots. The results depend on the RNG. You do not have to apply your skills and cannot influence the outcome.
In video poker, you get five cards and can exchange them. Thus, you are involved in the gameplay. Your decisions influence the RTP and odds of winning.
Thus, in video poker, the player's skills are essential, while in video slots, almost everything is in the hands of fortune. To play video poker efficiently, you must follow the optimal strategy developed precisely for your chosen game.
Video Poker Vs. Video Slots
Video poker is also much more profitable for a player than video slots. For example, in some titles, you can get a mathematical advantage over the casino, which never happens in slot machines. Of course, the benefit is negligible (typically a few tenths of a percent), and it appears only in the long stretch and correct decisions.
In other words, if you choose the most profitable game of video poker and play it correctly, you can achieve, for example, a payback of 100,3%. In the best case, a slot machine can give you an RTP of about 98%. Video slots rarely give more.
Video Poker Gameplay
The rules of video poker are described in a separate article in the corresponding section of Casinoz, so we will not repeat them here. We'll have a brief look at the main stages of gameplay.
Coin value - The administration of the casino sets its range.
Coin bet - In most games, you can wager from one to five coins. In many versions, a five-coin bet increases the RTP because it activates higher payouts or progressive jackpots.
Hand number - Some video poker machines allow players to bet on several hands.
Card dealing - After you make a bet, press the Play (Start) button. You will get five cards.
Exchanging cards - You can exchange up to five cards. You do not have to pay for it.
Paid-out combinations - If there is a winning combination in your cards, you get a payout. It is calculated according to the multiplier set for your combination.
Double-up game - If video poker offers this option, you can try increasing the payout by playing the double-up game. Usually, you see one face-up card and four face-down cards. You choose one of the four. If it beats the open card, your payout doubles up. If not, you lose the bet. There can be a tie too.
After that, the round is over.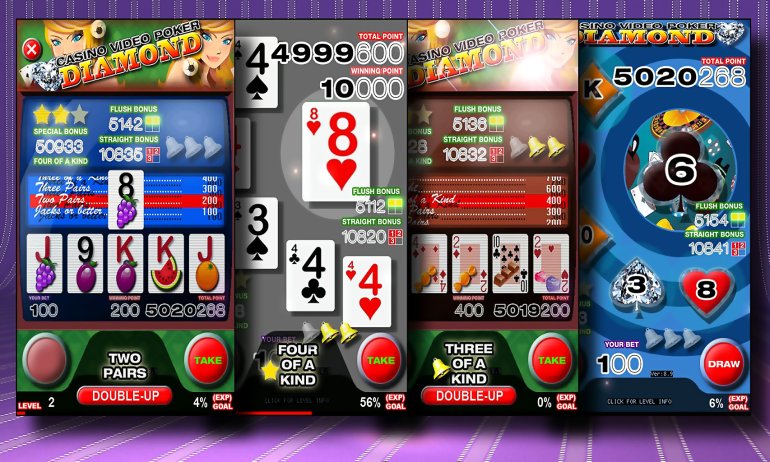 Video Poker from Inside
Now that we described video poker from the outside, we can move to explain its mechanics. All video poker machines are based on the random number generator, so the offline and online games work by the same principles.
Understanding them will be easier if you read answers to frequently asked questions. They are available below the article.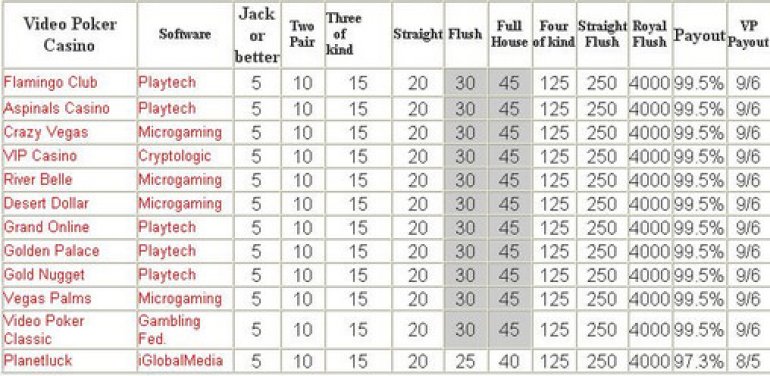 Picking the Best Video Poker
Today when many manufacturers produce games, there is a wide variety of video poker games. Even those with the same name, Jacks or Better, may differ in design, payouts, or some other features.
In particular, the most common versions of Jacks or Better are the so-called 9/6 and 8/5 games. The numbers mean payouts for a full house and flush, respectively.
This seems insignificant. However, the difference in payouts influences the RTP badly.
In Jacks or Better 9/6, the house edge is 0.5%;
In Jacks or Better 5/8, it is over 2.5%.
When choosing the game, you should focus mainly on the theoretical payback. But do not forget that you must select the best strategy.
Also, pay attention to the range of bets. You will likely need to play with five coins, so make sure you can afford their minimum bet.
Several reviews about the best video poker games are waiting for you on Casinoz. Our articles will help you make the right choice. In a special section of our site, you will find recommendations on basic strategies for the most common video poker games.
Conclusion
Video poker is one of the most profitable games for customers in online and offline casinos. Of course, you must learn to define the most profitable ones, pick an optimal strategy and study it thoroughly.
But it is not tricky in online casinos. Expert tips from Casinoz will help you. You can use them to find the best video poker games, print out the table with the optimal strategy and then play safely using it.
Take the time to do it to achieve the best results in the casino.