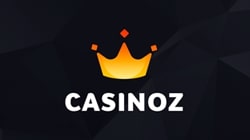 Temple of Luxor Temple of Luxor slot Review
A new video slot named «Temple of Luxor», which was produced by Temple of Luxor company, seems to be dedicated to the most popular topic in online gambling. Well, it is another video slot about Egypt with its pyramids and pharaohs. But don't you close the article even if you are bored by such gambling games, because this model is worth your attention. It is provided with extremely interesting design and few really exciting features. All the features of this novelty are carefully described in the following review by Casinoz.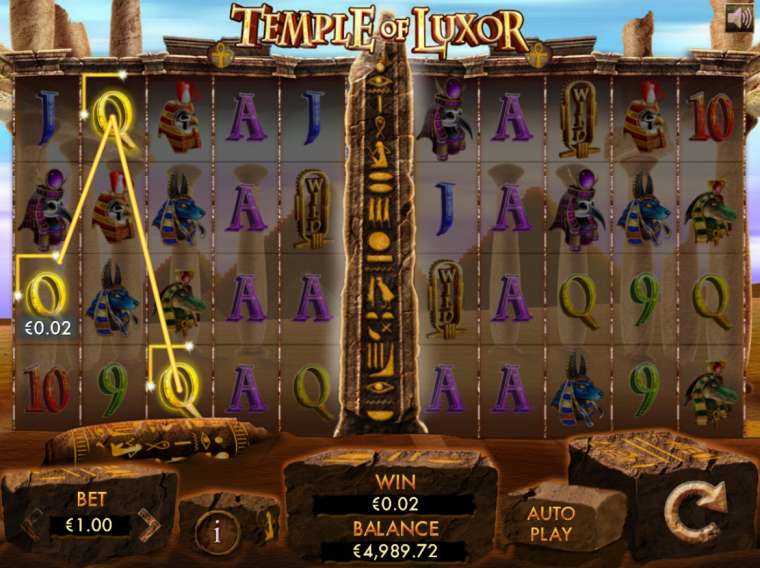 How to Play Temple of Luxor slot machine
«Temple of Luxor» is a slot machine with two screen with five reels spinning at each of them. When the reels are not spinning, you can see by twenty symbols at both. It is possible to play by fifty active lines in each case.
An amount of the bet can vary on the customer's choice in range from one to ten cents. This way, it is possible to stake from one euro to ten euro per spin.
This game is provided with standard symbols, icons with advanced functions, as well as free prize spins with the special system of wins and extra features.
The basic symbols make paid combinations at the active lines during the regular spins. To make a combination you need to hit several same symbols. They have to make a solid chain. Such combinations begin from the first reel from left to right at the left screen, while at the right screen they begin from the fifth reel in the opposite direction.
As usually, only the longest combination at each of the lines is paid. Its index, provided by the table, is multiplied by the bet per line. It can vary from x2 to x200 for the basic symbols. In case of several combinations formed at different lines by results of the same round, all wins are summarized.
Please read about exceptions from the rules below. The gambling feature is not provided.
This model pays back 97,104% of the total amount of the customers' bets at the long gaming period.
Temple of Luxor Symbols, Wild, Scatter
The basic symbols of «Temple of Luxor» are four images of sacred animals in a typical style, as well as six letters and numbers, which are card values from nine to ace.
The following symbols, which you can recognize by suitable titles, are provided with advanced functions:
The only function of Wild is to replace other symbols, except of Bonus, in paid combinations when necessary. It doesn't form combinations on its own. It is provided with additional function during prize rounds. Please read about it below.
Bonus triggers the prize round. It begins when at least two such symbols drop at the left and right screens in the same time.
Please read about prize spins below.
Temple of Luxor Bonus games
The bonus round of «Temple of Luxor» is eleven free spins. Another reel appears between two screen when it begins. It is always filled with Wild symbols from top to bottom. It merges two screens into one with eleven reels.
The same symbols can form combinations of two-eleven icons here. The combinations are formed at fifty active lines from left to right and from right to left. Payoffs are calculated by the special indexes from the special table. They can be from x1 to x5000.
More bonus symbols which can prolong free spins appear at the reels during the bonus round. Moreover, Wilds drop in stacks and can fill the whole reels.
Temple of Luxor Interface
Well, now about functions of different elements of the control panel shortly:
Bet – select an amount of the bet.
I – open the pay table.
Win – an amount of the win.
Balance – a state of the player's account.
Auto Play – the automatic game mode.
The slot accepts bet per round. New spin is launched by the last button at the right. Originally, a round arrow is imaged at this button. When it is replaced by an octagon, it can stop spinning reels in advance.
The pay table contains lots of information by all important points. There are payoff indexes for the regular and bonus spins, explanation of the rules, the scheme of the active lines, as well as details of other features.
It is only possible to set up the sound and size of the screen. You don't need to download «Temple of Luxor», because this game can be launched in a browser only.
Conclusion
Video slots
with two screen always attract attention of the fans of original gambling entertainments. This model is also interesting for the features of free spins. Make sure you wait for participation in free spins, because they are interesting indeed. So, it is a cool game with the excellent features, high payback index and high quality design.
Play Temple of Luxor in Indian Casino for Real Money
You can test «Temple of Luxor» free without registration or stake the real money at the website of Unibet Casino. This model is marked as exclusive, but we can't say if it is available in other casinos or not.
Meanwhile, we are looking forward for your responses about «Temple of Luxor». Please share your opinions in comments and rate it with stars.