Singapore Marina Bay Sands Casino and Resorts World Sentosa are among the most expensive and popular casino hotels in the world. They attract tourists from all corners of the earth with exclusive services, fantastic entertainment, favorable gambling conditions, and extra customer opportunities.
Unfortunately, some visitors to Singapore casinos do not find it helpful to get acquainted with the rules that are valid for foreign gamblers and locals. Such carelessness often leads to disastrous consequences, such as huge fines and prison sentences.
Let's find out what is allowed and prohibited in Singapore gambling clubs. Casinoz experts' advice and warnings below will help you avoid problems in Singapore.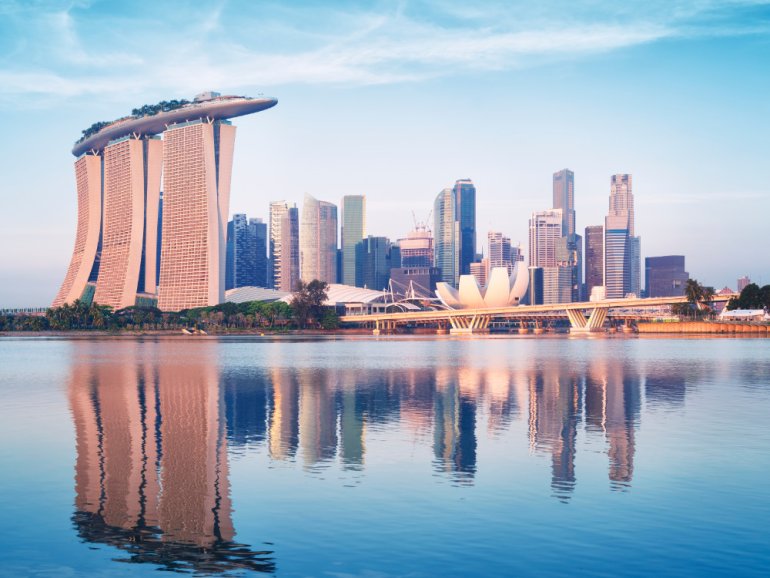 The article is primarily intended for gamblers. Recommendations on how to behave at Singapore casino are provided below. The paper deals with the things prohibited in local clubs to a greater extent.
Gambling operators that want to open their business in the country should address professional lawyers for advice.
Who May Gamble in Singapore Casinos?
Singapore casino rules aren't complicated, but some intricacies should be considered.
Local citizens and permanent residents of Singapore may attend casinos and gamble, but they have to pay some fee for visiting gambling houses. The price of attending casinos reaches one hundred dollars per day. The time until the end of the billing period is taken into account. The fine goes one thousand dollars.
Users who are under the age of twenty-one are not allowed to attend casinos. Their citizenship is not taken into consideration. Even if you have reached the age of majority by the legislation of your country, access to gambling houses is denied to persons below 21 years of age.
A casino administration and representatives of the Casino Regulatory Authority may prohibit any person from attending a gambling facility. For example, if they are declared bankrupt. Violation is punished by a fine that can reach ten thousand dollars or a prison sentence of up to twelve months.
Gamblers and members of their families may request to deny access to the casino. The self-exclusion program aimed at combating problem gambling is valid everywhere.
In general, any attempts to violate the gambling-related laws of Singapore are punished by imposing fines, prison sentences, and other methods.
Is Card Counting Allowed?
In Singapore casinos, card counting is not considered a crime if gamblers do not use electronic devices or other equipment.
In other words, if you count cards in your mind, you will not have any problems (at least, the official ones).
However, you will be at least warned if you start to count using your smartphone.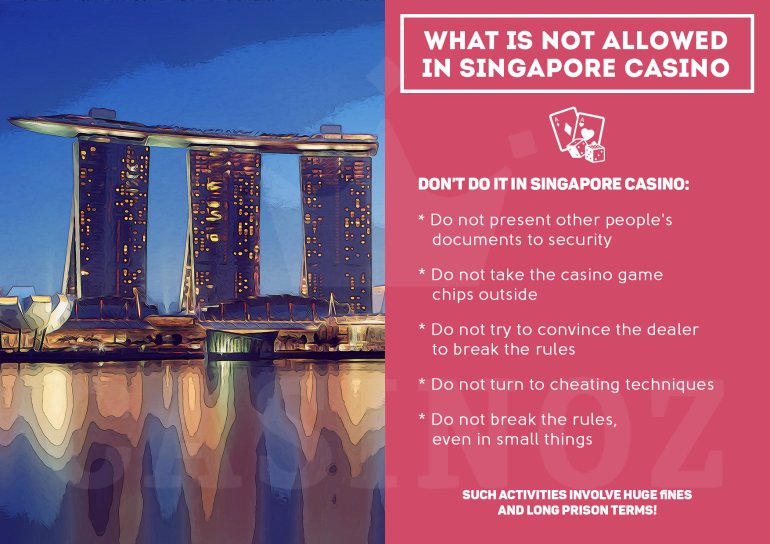 Don't Do This in Singapore Casinos!
Below we want to discuss the things that will inevitably result in severe punishment. You can either be fined or sentenced for them.
Don't attend casinos using the IDs of other people.
Do not try to enter a gambling facility using your friend's passport, brother's driver's license, or other documents that do not belong to you. This is considered fraud, even if you do not violate different rules for attending the casino.
Don't take chips from casinos.
Although you have paid for the casino chips, they are not your property. You may use them for gambling inside the club only. You cannot take them out, even if you want to have them as a souvenir.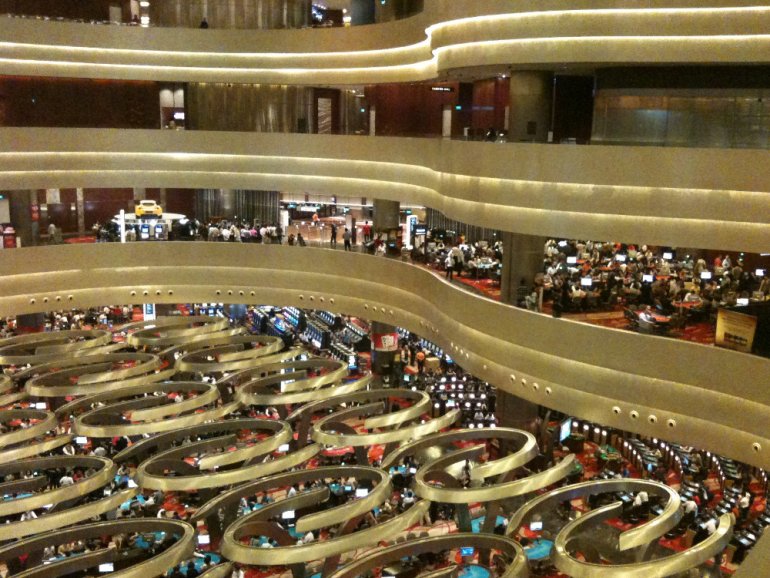 Moreover, it is prohibited to keep chips for large amounts of money outside casinos at the level of the legislation of Singapore. Violation of this rule is fined up to one hundred and fifty thousand dollars (or up to five years behind bars).
Why are the rules and punishment so strict? Tokens in most Singapore casinos are equipped with microchips. They perform several functions:
They help to distinguish real chips from fake ones;
They contain data;
They provide the opportunity to combat frauds (late bets and so on).
Operators prohibit customers from taking chips from casinos to prevent hackers from deciphering the information encoded. This would allow them to use it to deceive the gambling house or manufacture fake tokens.
Yet, do not be afraid that you can accidentally take the tokens. It is not easy to take them away, even deliberately, since, as already mentioned above, they have built-in microchips. So you will not be able to pass the security desk.
Don't cheat
This advice seems obvious, but some gamblers believe that such behavior of foreigners will be ignored in Singapore casinos. Do not count on the kindness of gambling operators. They are pleased to welcome foreign customers, but they will never allow them to cheat.
Thus, you should never
mark cards;
bring fake tokens and dice;
use mechanisms and electronic devices that affect the operation of slot machines, roulette wheels, video poker games, and other games of chance;
use smartphones, tablets, and mini-computers that can help you to calculate the probability of winning; try to find out cards of your neighbors;
try to figure out a dealer's face-down card in American blackjack;
make bets when the dealer has already stopped to accept them; claim yourself to be a representative of the casino staff;
use failures in the casino slots, electronic systems that accrue comp points, or other equipment for your benefit;
confuse the dealer, forcing them to make mistakes.
Remember that the casino administration does not have to prove that you have used any device for cheating. If you have them, this is considered to be a crime.
Don't make deals with dealers.
Casino visitors often try to provoke dealers, pit bosses, and managers for rules violations. We are not talking about large-scale scams with decks of marked cards and other operations that require the participation of the casino staff. Sometimes customers try to convince dealers to deviate slightly from the rules. For example, they ask not to remove a late bet or allow them to take a look at the neighbor's cards.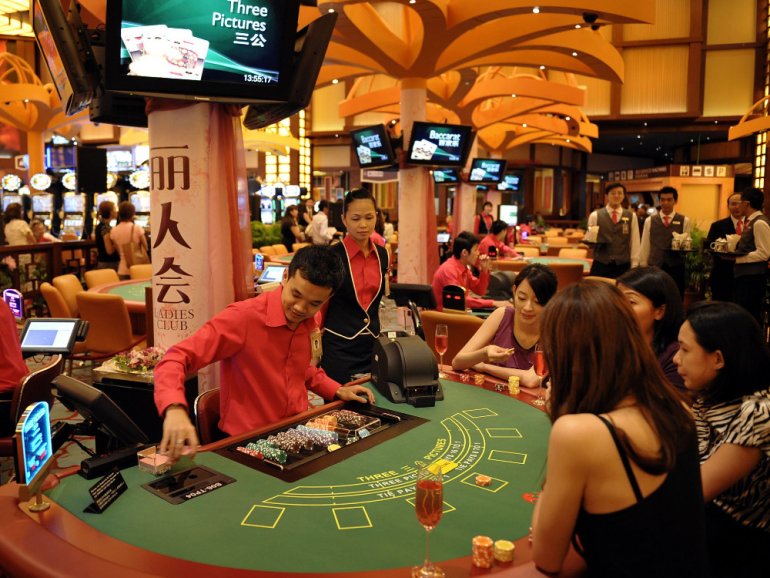 Do not try to do anything like that in Singapore casinos. At best, you will be forced to cash out the chips and leave the facility. In the worst case, there will be a trial with fraud charges and a considerable fine.
How Singapore Casinos Detect Cheaters
Singapore casinos are equipped with advanced technological achievements. They are crammed with CCTV cameras, microphones, microchips, sensors, jammers, face and voice recognition systems, and other devices that can effectively combat fraud.
Gambling operators never cut corners on security officers, inviting experienced professionals from different fields.
In addition, there is a powerful witness protection system in Singapore. Witnesses of unlawful actions in casinos are not afraid to complain about them because they know that scammers will not find out who is the source of information.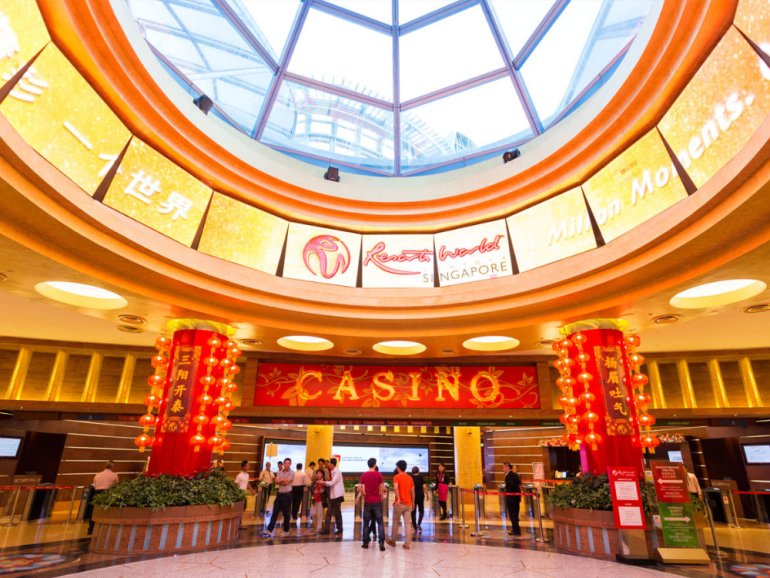 Some Real Stories
To convince you that gambling operators and authorities of the country are intolerable to cheaters, we want to tell you about some symptomatic cases.
The twenty-three-year-old man Lin Chaori secretly wagered five hundred dollars after the final result was revealed while playing Sic-Bo at Marina Bay Sands Casino. His payout could have reached twenty-five thousand dollars, but the dealer noticed the violation of the rules and called the manager. For this crime, the unlucky cheater could have received seven years in prison and a fine of up to one hundred and fifty thousand dollars, but he was put behind bars only for four weeks.
Three customers of Marina Bay Sands took advantage of a failure in the casino's electronic loyalty program. They received free credits that allowed them to win almost nine hundred thousand dollars. When the fraud was revealed, the scammers were sentenced to twelve to twenty-six months in prison. They also had to return the money.
Two Chinese students were sentenced to eight and fifteen weeks in jail for provoking a dealer at Marina Bay Sands to cheat in baccarat. The dealer did not take their lost chips, paid out them more, and issued chips in other illegal ways. The dealer was also put behind bars for eight months and received another year suspended.
Four Turks played three card poker at Resorts World Sentosa Casino, exchanging cards with each other. One of them distracted the dealer, the other one deflected the pit boss's attention away from them, and two others made the basic manipulation. Cheaters have been revealed thanks to video surveillance. They were sentenced to six to twelve months in jail.
As you can see, operators of Singapore casinos don't go easy on scammers. You cannot escape punishment even if you violate the facility's rules by ignorance.
Conclusions
A complete list of possible violations of the casino rules is published in an official document called the Casino Control Act (CCA). It is available on the government Singapore Statutes Online website.
To sum up, it is essential to note that the vast majority of Singapore casino visitors do not face such problems. Customers are not put behind bars just for a pair of chips found in their pockets or for careless behavior at the table. Just try to avoid trouble, and feel free to ask employees if you do not know what to do.