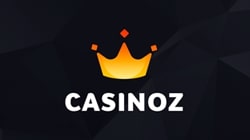 Dynamite Bingo

How to Play Dynamite Bingo
Dynamite Bingo is a Latin American variation of bingo in which ninety balls numbered from one to ninety are used. During the gameplay, thirty of them are chosen.
Users can activate from one to four cards. Each of them has fifteen randomly selected numbers. It is allowed to shuffle cards if you are not satisfied with the offered ones.
The ticket denominations are chosen by the user. They vary from six to two and a half thousand credits. So, it is possible to wager up to ten thousand credits per round.
Your task is to mark off as many numbers on cards as possible. Technically, you need to select all of them. Payouts are credited for patters provided by the rules and formed from winning numbers in bingo tickets. The most valuable combination is called Bingo (all fifteen numbers are marked off.) The multiplier of 1,500 is multiplied by the bet on a card. All patterns are described in the paytable, so we will not pay attention to them.
The gameplay occurs in the following way:
The user selects the number of cards and bet sizes for each of them (it will be the same for all positions.)
Then he or she starts a new round by clicking on the appropriate button on the control panel.
Then a miner pumps out thirty numbered balls. They are automatically marked off on cards.
If paid patterns are formed, payouts are credited for them.
If combinations some miss numbers, they can be purchased. The price is determined in each case individually. It depends on a pattern that can be collected and bet size. It is possible to purchase up to ten balls.
As soon as the player has decided to finish the round, he or she collects a payout using a special button on the panel.
There is no game on equal chances. Exceptions to common rules are absent. Bonuses and jackpots are discussed below.
Data on the embedded theoretical payout percentage of Dynamite Bingo are not available.
Dynamite Bingo Bonus games
To take part in the bonus round, it is necessary to collect one of the two highest-ranking combinations: Bingo or Bonus. The user will have to blow up sticks of dynamite and receive payouts. More information about this bonus round is available in the section Help.
Jackpots
Dynamite Bingo offers a progressive jackpot whose amount increases with each bet made by the player. Moreover, its size depends on the current bet. To get the jackpot, you need to collect the highest-ranking pattern on the screen by using less than thirty balls. Details can be clarified in the rules.
Dynamite Bingo Interface
We are not going to explain the meaning of all inscriptions in the interface. We are just going to pay your attention to its basic features.
The protagonist is located in the middle of the screen. It is a miner who is looking for gems. He fills a special scale with winning numbers and gives extra balls if they are necessary for a customer.
The number of active cards and bet sizes for each of them are selected by means of special elements on the control panel. There are buttons that adjust the game speed from the right side. As soon the balls start appearing, you will see another button that instantly stops this process.
Then an offer to buy extra balls or to collect your payout shows up.
A button with crossed arrows changes cards on the screen.
The rules explain features of the formation of patterns and provide information about common terms and conditions. Some aspects are described in detail in the section Help.
In the upper part of the screen users can notice a scheme for the formation of patterns. The amount of progressive jackpot (taking into consideration the current bet) is also shown there.
Options allow disabling the music and sound effects. Gamblers have an opportunity to select the screen size.
There is no need to download Dynamite Bingo. Open it directly in the browser on the site of casino.
Conclusion
We have no doubt that fans of bingo will enjoy playing this model. It is spectacular, colorful, exciting, and functional. In addition, it can be run without downloading and installing software.
Common advices relating to bingo
can be found in a special article on the website Casinoz. Later we will publish recommendations on exactly this model.
Play Dynamite Bingo in Indian Casino for Real Money
At StarGames Casino it is allowed to test bingo or run it making bets with real money. However gambling games cannot be run without registration even in demo mode. You will surely be able to find this model at other casinos running on the licensed platform of Novomatic.
Don't be lazy and write your opinion about Dynamite Bingo. Please rate this game.