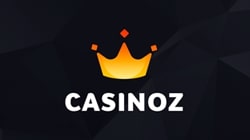 Joker Poker

How to Play Joker Poker
Joker Poker is a kind of video poker in which the player has to collect a paid hand provided by the rules. Common terms and conditions are traditional. It is allowed to exchange up to five cards once for free.
A standard 52-card deck with one joker that can replace the missing elements and take part in the formation of hands, which can not be collected without it, is used in this model.
The list of paid poker hands in Joker Poker includes standard combinations from a pair of kings to a royal flush. A joker can help to form a wild royal flush and a wild five of a kind (a four of a kind and a wild card). Payouts are calculated for them on the basis of the individual multipliers mentioned in the paytable.
It is possible to play this video poker betting on a single hand only. The bet on it can reach ten, twenty, thirty, sixty, or one hundred monetary units in the established gaming currency. If you make the highest available bet, there are extra benefits, namely disproportionally high multipliers for calculating payouts for certain poker hands.
The gameplay is traditional. The user makes a bet and receives five cards. He or she decides whether he or she wants to hold some of them or not. The cards that are not held are replaced. If any hand is formed, the payout is credited for it. The customer can either collect money or wager it in order to try to double this amount.
A game on equal chances is designed in the form of predicting the color of a hole card. You should randomly choose a red or black color. If you predict it correctly, the payout is doubled. If you fail, your funds go to the cashier. It is possible to play up to five times in a row. It is prohibited to make mistakes. Users can stop playing at any time.
According to the developers of this model, if you play Joker Poker on the optimal strategy, you can achieve the theoretical payout percentage of 99.31%. We are going to remind you that this index is valid only over the long run. Your result in a single session may differ significantly.
Jackpots
Joker Poker offers four progressive jackpots named for suits. They are accumulated separately by deducting a small percentage of customers' bets. To win one of them, it is necessary to become a participant of a special round. It is run randomly in any standard round on the additional screen.
There are twelve hole cards. The user should choose them randomly. The player selects cards until he or she will collect three cards of one suit. As soon as it happens, he or she will get a corresponding jackpot. Then it will start growing again.
Joker Poker Interface
The game is quite understandable, so you will hardly need our tips concerning inscriptions on the interface. We are going to pay attention to basic functions of the various elements that can be seen on the control panel.
The main part of the screen is occupied by five cards that take part in the current round. The paytable is located above them. Payouts for them are mentioned taking into consideration the current bets.
At the bottom there are most buttons that are used to control the gameplay. There are some elements to select bets, determine the game speed, expand the window to full screen, turn off the sound, and so on.
The button that starts a round on equal chances appears in the window, where the payout amount is indicated. There is an info line with tips between the control panel and cards.
Progressive jackpots are displayed in four special windows at the top of the screen. If you hover over any of them, information about the number of winnings and the recent lucky player who has hit the jackpot will be displayed.
Users do not need to download this video poker, because online casinos may be run directly in the browser on the websites of establishments.
Conclusion
This is a cool model with a user-friendly interface, nice graphics, favorable terms and conditions, huge jackpots, and substantial payouts. It will certainly be interesting to fans of joker poker.
We recommend that you should become familiar with
advices concerning joker video poker
provided by experienced specialists, since the basic strategy does not seem to be suitable for this model. Users should take into account progressive jackpots, wild cards, high payouts for some hands, equal payouts for the others, as well as other features.
Play Joker Poker in Indian Casino for Real Money
It is allowed to make bets using real money and conditional credits at Jetbull Casino. Users can run this video poker without registration in free mode. You'll also find this model at other online casinos using software from EGT.
We offer everyone to write comments about Joker Poker. Leave your opinion in the comments and rate this game using a 1-10 scale.