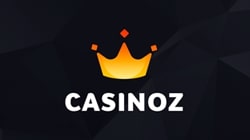 Jumanji

How to Play Jumanji slot machine
This model has five reels of different height. First and fifth columns fit three symbols each, second and fourth display by four icons and third reel – five.
Thirty six lines are always active on default and this number is constant.
The slot accepts ten-fold bets per spin. There are ten levels with coins from one to fifty cents at each. This way, it is possible to stake from ten cents to fifty euro per round.
«Jumanji» is provided with basic symbols, a Wild, a Scatter, some prize features with different symbols and a thematic bonus round.
Paid combinations are made of three, four or five same icons.They have to be situated next to each other from left to right at any of thirty six active lines. As usually, only the most valuable option at each line is counted.
Wins are calculated by special indexes from x2 to x140, which are multiplied by the bet. In case of numerous payoffs, they are summarized. All money is instantly withdrawn to the balance. Gamblin feature is not provided.
All types of symbols and bonus options are discussed below in the review of «Jumanji» by Casinoz.club.
Jumanji Symbols, Wild, Scatter
There are eight ordinary symbols at the screen: a lion, a rhino, a crocodile, a pelican and J, Q, K and A letters. Same icons may show up in vertical stacks at the reels.
Two special symbols are available:

Wild (golden sign) works as a joker, replacing other elements, except the Scatters, in combinations. This symbol gets advance functions during few bonus options.
Scatter («Jumanji» game) triggers Board Game by three and more such symbols at any cells of the screen.
Pay table provides multipliers, but doesn't display potential payoffs by current bet.
Jumanji Bonus games
First of all, we would like to discuss prize features of this game, which may begin during any basic spin:
Sticky Vines – if any combination is formed, vines may appear at the screen. They entwine the symbols, included into winning combination. These icons are locked at their positions, while rest are replaced by new icons during a free respin.
Monsoon Wilds – one or two reels are loaded with Wilds. If Wild symbols take whole fifth reel, they are cloned to other column as well.
Monkey Mayhem – monkeys shuffle the symbols to form a winning combination.
Wild Stampede – rhinos are running across the screen and leave from four to nine Wilds behind.
Now about the thematic bonus round:
Board Game – Jumanji game appears at new screen. Three, four or five Scatters give a right to throw dice six, seven or eight times accordingly. First you would have to pick an icons. It moves by the gaming field pointing on your prizes.
You can win following:
Vines Free Spins – ten free spins on the casino's expense. All combinations. formed during this feature, activate Sticky Vines respins.
Monsoon Free Spins – seven free spins with Monsoon Wild feature.
Monkey Free Spins – six prize rounds with Monkey Mayhem feature in each.
Stampede Free Spins – five free spins with Wild Stampede.
Coin Wins – you win a payoff. Quantity of coins is displayed in the cell, where the figure stands. The coin value is same as in previous basic spin. 
Extra Rolls – you get a right for extra rolls.
Mystery Feature – random bonus option. It can be one of them mentioned above varieties of free spins, a payoff or rolls of dice.
All free spins go on the casino's expense by the bet of previous round.
Thematic bonus and some other prize features are demonstrated in our video review of «Jumanji» slot machine by Casinoz.club.
Jumanji RTP, Volatility & Hit Frequency
Let's point out some technical data:
Jumanji RTP: 96.33%
Volatility: low
Hit Rate: 24.6%
Below you'll see the more detailed information about the slot.
General RTP: 96.33%
RTP in paid spins: 52.5%
RTP Board Game: 25.1%
Vines Free Spins: 6.6%
Monsoon Wilds: 5.8%
Monkey Mayhem: 3.4%
Wild Stampede: 5.4%
Sticky Vines: 4.1%
Monsoon Free Spins: 4.9%
Coin wins: 3.9%
Stampede Free Spins: 5.0%
Monkey Free Spins: 5.0%
Here are some more statistical figures:
Base Hit Frequency: 24.6 %
Monsoon Wilds: 0.50% (1 out of 199)
Board Game Hit Rate: 0.49%(1 out of 204)
Monkey Mayhem: 0.46% (1 out of 217)
Wild Stampede: 0.42% (1 out of 239)
Sticky Vines: 0.42% (1 out 239)
Jumanji is a low variance slot. The winning combinations are frequent. Bonus features are triggered often. Very big payouts are rare. Thus, the slot is not highly volatile.

Jumanji Interface
Now a couple words about elements of the control panel:

Bet – select an amount of the bet in coins;
Level – select betting level;
Coin Value – select coin value;
Max Bet – play by maximal bet;
Auto Play – switch to automatic mode;
Coins – state of the balance in coins;
Auto – advance parameters of automatic game;
? – go to the Help;
I – pay table;
Cash – state of the balance in cash;
Bet – an amount of the bet in credits;
Win – an amount of the payoff per spin.
Pay table consists of several thematic pages. Help provides detailed description of technical features, rules and capabilities.
It is possible to set up sound parameters, size of the screen, speed of the gameplay and other options. You can play «Jumanji» in browser right at the website of an online casino.
Fans of mobile casinos can play «Jumanji» on smartphones. This game perfectly works on any modern devices independently of their productivity and Internet speed.
he interface is very convenient and functional. Mobile version offers all the same bonuses and prizes as the desktop slot.
Mobile Compatibility
Jumanji can be used on any mobile platform. The slot looks cool on all devices. You can play it on iPads, iPhones, or any smartphones on Android. You do not need to install apps. Just open the game in a browser. 
Conclusion
Henrik Fagerlund from NetEnt couldn't hide delight of making an agreement with Sony Pictures:
Original «Jumanji» debuted in 1995 is stile beloved by spectators and performs how attractive it is for people of new generation twenty years later! Moreover, after release of new movie, the brand is more popular than ever before. We are delighted to launch the game in 2018.
Finally, here comes the release and we hurry up to introduce all features of this wonderful novelty to you.

We recommend «Jumanji» video slot to all readers of Casinoz.club, who are interested in gambling games of this type. Even if you don't like the movie, we believe, this slot will suit your taste.

Pros: interesting topic, wonderful graphics and animation, amazing selection of exciting bonuses.
Cons: inconvenient pay table.
This model has low dispersion. Level of RTP is average.
Play Jumanji in Indian Casino for Real Money
You can test «Jumanji» free at Casinoz.club or play this slot for real money at online casinos powered by NetEnt.
Please write responses about «Jumanji», score the game and share your opinions in comments.
P.S. Other gambling games inspired by popular movies are discussed in our thematic article.