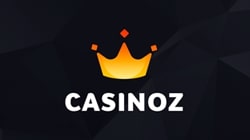 Magic of Oz Magic of Oz slot Review
The software developers in field of online gambling are kept restless by the world famous fairy-tale by Lyman Frank Baum «The Wonderful Wizard of Oz». To remind you, according to the plot line of this story, Dorothy from Kansas has been taken to the magic land by the storm. Together with her new friends - the Tin Woodman, the Scarecrow and the Cowardly Lion, she went to the Emerald Town to ask the wizard living their to live up their dreams.
Slot machines devoted to this fairy-tale can be found in portfolios of many companies releasing software for online casinos. The specialists of Games OS (CTXM) have also created a thematic video slot named «Magic of Oz». In the following article prepared by the reviewers of Casinoz we suggest you detailed description of all its features and options.
How to Play Magic of Oz slot machine
«Magic of Oz» is a slot machine with six reels. The columns at the screen are of different sizes. There are three symbols at the first reel, four images at the second, five icons at the third, six of them at the fourth and by seven elements at the last two. This way, the symbols are located in shape of triangle.
This game offers eighty pay lines, which are always active on default, to form winning combinations at. Bets per each of them are always equal: from one cent to five euro per line. This way, it is possible to stake from eighty cents to four hundred euro per spin.
This model offers basic and special symbols, free re-spins, as well as two-level bonus round with free spins and prize wins.
The standard symbols are paid when three and more same elements make a solid chain at the active line. The combinations have to begin from the first left reel necessarily. Herewith, only the longest combination at each of the lines wins.
Payoffs are calculated by multiplying of two values: the bet per line and the index of formed combination (from x7 to x900). In case of several winning combinations formed at different lines by results of the same spin, all charged credits are summarized.
The gambling feature is not provided by the rules of «Magic of Oz» slot machine. Exceptions from the rules are discussed below.
The theoretical payback index of this model is 96,97%.
Magic of Oz Symbols, Wild, Scatter
As soon as you launch «Magic of Oz» slot machine, you can see the main heroes of the fairy-tale at the screen, as well as a little dog, a crow, a red poppy and medallions in shape of card suits.
Moreover, there are such special symbols in this video slot as Wild (a diamond), Featured Wild (a kind of this element expanded for few positions) and Bonus (a road of yellow brick). Please read about their functions below:
Wild can form combinations paid by high indexes on its own. It is also able to replace other elements in combinations when it drops in an appropriate cell.
Featured Wild is not paid on its own, but it replaces other symbols. It fills three vertical positions. When it drops at the first reel, the gambler gets right for two free spins. All Wild symbols hold their positions during these spins.
Bonus can be found at the first, the second and the third reels only. When it drops at all these three reels, the prize round begins.
You can find more details of the special symbols in the informational section.
Magic of Oz Bonus games
The prize round takes place at the special screen, where you can see nine stones with question marks. You have to pick them randomly. They hide colorful diamonds, connected with different characters. When one of the heroes picks three same gems, you'll find out how many spins of the fortune wheels you are provided with.
Then another screen appears. There you would see two fortune wheels with sectors. One of them contains numbers, which mean quantity of spins, and the second gives you extra multipliers. You can spin one or both wheels if you have enough attempts.
Then free spins during which the casino stakes instead of you begin. If you win extra multipliers, your payoffs are calculated according them. Please check details in Help.
Magic of Oz Interface
Well, now a couple of words about functions of different elements of the interface:
Spin/Stop – start/stop a new spin.
Info – open the pay table.
Total Bet – betting window.
Auto – the automatic game mode.
Turbo – speed up the spin.
? – open help.
Sound and screen parameters are available in this game. «Magic of Oz» can be launched right in a browser, so you don't need to download this model.
The pay table consists payoff indexes, the general rules, the scheme of the lines and other information. You can find more details of all features in the informational section.
In general, the interface is user-friendly and even a very beginner can easily understand all its features.
Conclusion
The unusual design, various gaming features, high payback index, the wide range of bets, the colorful animation effects, the lovely design, high functionality - are the main advantages of discussed game.
Play Magic of Oz in Indian Casino for Real Money
You can find «Magic of Oz» video slot in different multi-software casinos powered by GamesOS. Logos of such houses with links to the websites can be found below. These portal allow testing the games free.
We would be happy to know your opinion about this slot machine. Please write your responses about «Magic of Oz» in comments and rate this game with stars.