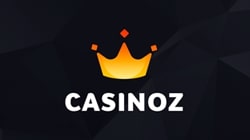 Quick Slinger

How to Play Quick Slinger slot machine
Quick Slinger is a five reeled video slot with twenty pay lines, which was developed by Oryx Gaming company. This game is provided with Wild and Scatter symbols, extra multipliers of payoffs, free spins and a bonus round.
It is possible to stake coins of value in range from one to ten cents in this game. It is possible to stake up to ten coins per each of the lines, while there are totally twenty available active lines here. You can vary an amount of the bet according to your financial situation.
Quick Slinger slot machine is provided with stop-game option. It means that you can stop the spinning reels in any moment.
The gambling feature is also designed quite stylish - it is made in a western style with a gun at the background.
There is an option of free spins in this game and I was lucky playing it. I have completely picked the opponents! At least, I was informed about it in the dialogue window.
Quick Slinger Symbols, Wild, Scatter
As we are talking about Wild West, the producer of Quick Slinger slot machine was quite generous for Wild symbols - there are three of them in this game. You can see the main hero of the game - the Quick Slinger Billy, at each of them. Its caricature, but still elegant portrait is imaged in three kinds. First is on the horse. At the second he enters saloon by the open doors. And the third symbol you can see him at the poker table with cards in hands. Scatter symbol is an icon with image of town clock, which show midday and trigger the bonus game named «Midday blow up». You can also see a couple of colts-peacemakers in a holster with bullets, saloon sign and somebody's hand with aces and a sharper's ace in the cuff. It seems that serious problems are about to happen due to card games. The signs of the values of playing cards from nine to ace, which are imaged at the side symbols are quite suitable here. However, each of the side symbols has its own image: «nine» is an image of spurs, «ten» is a couple of horse shoes, «Q» is a lasso loop, «J» - is a bended revolver bullet, «K» is a desert cactus and finally «A» - is a bunco of red dynamite.
Quick Slinger Bonus games
To play the bonus game named «Midday blow up», it is necessary to pick three and more Bonus symbols anywhere at the screen (town clock). As usually, if slot machine is connected with the Wild West, its bonus game can't avoid the real cowboy duel. As you could notice, the reason of duel of Quick Billy was his sharp deal. To find out who was right, the cowboys have started the duel. Well, in the bonus game you would have to fight in the duel.
Jackpots
The maximal payoff of Quick Slinger slot machine is 4000 coins. The most valuable symbols of this game is an image of a colt, then an image of a saloon, spade ace and card symbols, such as A, K, Q, J, ten and nine.
Quick Slinger Interface
A couple of long-tube revolvers named peacemakers and a combination of aces decorate the logo of Quick Slinger game. The design of the interface is made in style of the Wild West. A desert central street of the town at the background can be seen at the gaming screen, as well as the payment table and the screen with rules of the game. All the information is presented at the wooden tables with iron-bounded ornament in style of that times. You can't see the spinning reels as it is, because its parts are separated only by ropes of cowboy lasso. The wooden parts at left and right from the reels are shot with bullet holes like a bar in the saloon - this is how markers of pay lines look like. The standard control panel of Oryx Gaming perfectly suits to this iron and wooden vintage. We would note that this module was developed so successfully, that it has suited almost all the video slots by this producer. So, if you are a fan of tho producer and Western style, you would feel yourself at the Wild West like at home in Quick Slinger slot machine.
Well, you are going to find the following buttons in the interface of Quick Slinger video slot:
Spin - start a new spin.
Gamble - play in the gambling feature.
Max Bet - start a new spin by the maximal bet.
Lines -/+ - select a quantity of active lines.
Coins per Line -/+ - an amount of the bet per line in coins.
Conclusion
All the winning combinations of Quick Slinger slot machine have its own original animation. Here you can hear a sound of horse-shoes, which image ten, and see shine of spurs at nine. You can see lots of wonderful animation during the game. These moments bring a special kind of esthetic pleasure. However, we can't deny other advantages, which this game was provided with. Nice an funny graphics, a plenty of exciting gaming functions and bonus options make the game so various that you can forget about time while playing Quick Slinger slot machine.
Play Quick Slinger in Indian Casino for Real Money
A free online slot machine named Quick Slinger is available in a training mode as well as by the real money in many online casinos powered by the software developed by Oryx Gaming. If you want to feel the real gable of the game, we invite you to SinCity casino!
Your responses about Quick Slinger video slot would help us making our website more interesting and useful for you. Please share your opinion in comments to the review and rate this game.