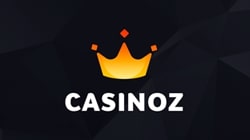 Bonus Beans

How to Play Bonus Beans
Bonus Beans is an arcade game of chance in which payouts are credited for continuous chains made up of identical images. At the same time it cannot be called video slot, since it has neither reels nor paylines. In addition, the interface significantly differs from the traditional design of slots.
Twenty images representing candies of different shapes and colors show up on the screen of the model simultaneously. They are arranged in five rows, forming four columns.
It is allowed to wager from thirty cents to two hundred and fifty euros per round.
Sequences of identical elements that form vertical or horizontal lines (diagonal chains are not taken into account) are considered to be winning combinations. Payouts, which are calculated by multiplying the bet by the multiplier set for each combination, are provided for them. This multiplier can vary from 0.5x to 300x. If there are several chains, payouts for them are added together.
The minimum number of images required for earning a payout is three. If the chain is made up of a higher number of them, only the highest-ranking variant is paid, and less valuable combination that are included in it are not treated as winning combinations.
Pictures that form such sequences disappear from the screen as soon as money for them is credited. They are replaced by new symbols that fall down. Basically, this process can last forever (in practice, only several times). All payouts are added together. A game on equal chances is not available, so money is immediately transferred to the main account.
The theoretical payout percentage of Bonus Beans is 96.5%.
Bonus Beans Symbols, Wild, Scatter
Bonus Beans offers five types of ordinary images, including candies that have the shape of hearts, balls, squares, triangles, and droplets. The situations may arise when one symbol will occupy all twenty positions on the screen. All of them will be treated as a single combination of twenty units.
There are three bonus symbols in this model. They have the shape of multicolored beans. When one of them appears at any position on the screen, one point is added to the corresponding bonus scale. Bonus payouts and other benefits become available at the end of the round. There are the following features of images:
Multiplier Bean - Each bonus symbol of this type provides a 2x multiplier, which is taken into account while calculating payouts.
Mystery Bean - The player wins a money prize whose size is determined randomly and depends on the bet.
Free Games Bean - Two free spins are provided for each of such elements. In this case, the bet of the same size is made by the house.
More information about the terms and conditions for these features can be found in the section Help.
Bonus Beans Bonus games
This model also offers a bonus payout that is credited if the player succeeds in clearing the playing field from all symbols. This is called Clear Board. The player receives an amount equal to five hundred bets. The stage at which all images disappear does not make any difference.
Bonus Beans Interface
You'll easily understand how to play Bonus Beans, since rules, buttons, and info boxes are intuitively understandable. Our tips concerning inscriptions and possibilities of different elements on the control panel will help you:
Bet is used to select the bet size (in a pop-up window)
Win shows the payout per round
Balance shows the number of credits on the account
A new round starts when you click on the button with round arrows located from the right side. Next to it there is a button with a vertical arrow. It opens a window where users can select the number of spins in automatic mode.
Controls are located from the left side. They open a paytable, section with rules, settings, and sound. Options allow adjusting various aspects of the gameplay.
Multipliers for the calculation of payouts, common rules, features of some symbols, and other information about the rules can be found in the section Help.
There is no point in downloading Bonus Beans. Users may run it in the browser.
Conclusion
Frankly speaking, models of this type are not very unique. Such an arcade game is available in the portfolio of many software manufacturers. This model attracts by numerous combinations, fairly high theoretical payout percentage, interesting bonus features, and very user-friendly interface. In any case, it is perfectly suitable to get acquainted with products of Push Gaming.
Play Bonus Beans in Indian Casino for Real Money
You'll find Bonus Beans at Unibet Casino where it is allowed to test this game without registration directly on the website. Later, we'll tell you about other casinos with software of this brand.
Please share your opinion about this novelty with us. Reviews of Bonus Beans can be left in the comments. Rate this model using asterisks and a 10-point grading scale.