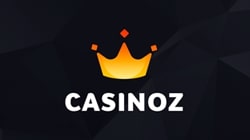 Deal or no Deal Blackjack

How to Play Deal or no Deal Blackjack
This is an American eight deck blackjack without jokers.
It is possible to play the Deal or no Deal Blackjack for one to three hands and stake from one euro to five thousands euro. Bets per each box can be different.
Goal of the game is to win the dealer by getting higher score than he does, but never exceeding twenty one. It is also possible to win on croupier's bust or by Deal or no Deal feature.
General rules of blackjack are discussed in the special article at Casinoz.club. Please make sure you read it if you are not well-familiar with basic rules of this game.
The Deal or no Deal Blackjack has standard count and card suits are not accounted.
The gameplay is traditional, but the customer has an opportunity to accept a stated payout before he takes cards on this hand. Please read more about this feature below.
Let's note major features of the Deal or no Deal Blackjack:
The dealer deals two cards to himself and opens one of them.
The croupier checks for blackjack on his hand.
The dealer hit on sixteen and stands on any seventeen.
Split of same value cards is possible.
Each ace is dealt with one card after split.
An ace and a ten on box made after split is not a blackjack.
Double is possible for nine, ten or eleven points in hand.
Double is possible after split.
Insurance of blackjack is available.
No surrender.
Payoff indexes are following:
Standard winning box – 1:1;
Blackjack – 3:2;
Insurance – 2:1.
Tie game is announced in case of even score of the dealer and the customer.
Gambling feature is not provided. All wins are automatically withdrawn to the balance.
Deal or no Deal Blackjack Bonus games
No side bets are accepted in this game, but this blackjack is provided with a unique feature, which can be called an analogue of Surrender.
Deal or no Deal – as soon as the player get two first cards, he can agree on deal. In this case, he gets a payout instantly. It is always below the maximal possible win. Sometimes, it compensates only a part of the bet. Amount of the payout depends on player's chances. If you agree the deal, you don't draw cards on this box.
Our video review of the Deal or no Deal Blackjack at Casinoz.club will help you understanding how to use this feature better.

Deal or no Deal Blackjack Interface
The model has a very convenient interface without numerous useful tools.
First of all, let's sort out the buttons, which appear at the screen in different situations:
Deal – accept the deal;
No Deal – refuse the deal;
New Bet – place new bet;
Rebet – repeat previous bet;
Rebet & Deal – repeat the bet and deal the cards;
X2 Double & Deal – double up the bet and deal the cards;
Clear – remove chips from the field;
Deal – deal the cards;
Double – double up the bet;
Hit – draw a card;
Stand – stop drawing cards;
Double Down – make double;
Split – make split;
Insurance – use insurance of blackjack.
It is possible to play from keyboard. Hot key can be found in the Help section.
Useful information is displayed in following windows:
Balance – state of the balance;
Total Bet – an amount of the total bet;
Paid – an amount of the payout;
Min – minimal limit;
Max – maximal limit.
User's settings of the Deal or no Deal Blackjack allows to turn off the sound, see the history, read the rules and use the table of basic strategy.
An image of a cogwheel opens the menu with following sections:
Insurance – enable insurance notifications;
Bet Warnings – turn on notifications of wrong decisions;
The Book Says – enable floating tips by BJ basic strategy;
Show Offers – offer the deal.
It is not necessary to download the game, as it is available in browsers.

Mobile Compatibility
The Deal or no Deal Blackjack is available on all major platforms, including mobile casinos. You are welcome to play on smartphones powered by Android and iOS. Mobile version has a special layout of buttons to provide comfortable gaming on touchscreens, while general functionality remains the same.

Conclusion
Let's sum up major advantages and disadvantages of the Deal or no Deal Blackjack.
Pros:
The interesting Deal or no Deal feature;
Convenient interface;
Diverse tools and settings;
Integrated basic strategy;
Nice design.
Cons:
No integrated tips by Deal or no Deal feature.
Not the highest theoretical payback.
You can find more recommendations by blackjack in our articles. Experts of Casinoz.club will provide tips by this model later to help you reaching maximal results.
Play Deal or no Deal Blackjack in Indian Casino for Real Money
You can test the Deal or no Deal Blackjack free at Casinoz.club. Demo version is available to all visitors without registration.
Online casinos powered by Red Tiger software offer to play this game for real money. Fair and popular websites with games of this brand are presented below.
Please write responses about this model of blackjack and share your gaming experience. Your rates and opinions are very important for us.