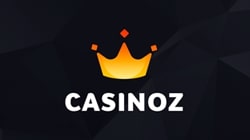 World Cup Keno World Cup Keno Review
To the World Football Cup 2018 in Russia, many famous software developers have released thematic video slots. However some producers, who decided to follow the trend, gave their preference to gambling games of other categories. For example, PariPlay Limited company has surprised by football keno with an interesting pattern system and a bonus feature. This unusual model is described in the following article.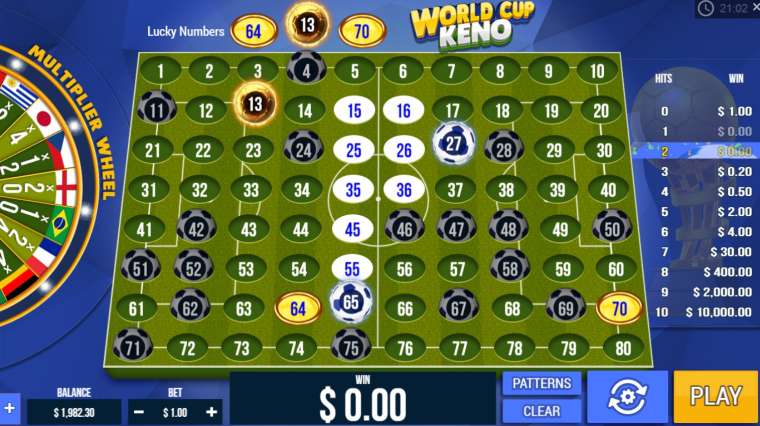 How to Play World Cup Keno
«World Cup Keno» is an online keno with eighty balls, numbered in order.
Aim of the game is to guess one or more winning numbers.
It is possible to choose from one to ten numbers. You have to mark them at the gaming field, designed in style of football field. Then the random number generator picks twenty winning numbers. The more numbers you manage to predict, the higher your payoff is.
It is calculated by the bet, which may vary from ten cents to ten dollars, and special indexes from x0.2 to x10000.
For example, if you choose juts one number and it wins, your payoff is calculated as x3. Maximal win goes to the user, who marks ten numbers and all of them play.
You can find a table, which provides all multipliers on the Help.
The game is provided with ten patterns, due to which you can automatically mark different numbers at the field. They visually remind different items of football world.
«World Cup Keno» doesn't offer a gambling feature. Please read about bonus round and other opportunities below in the review by Casinoz.club.
World Cup Keno Bonus games
A couple words about prize features:
Lucky Numbers – if you select ten numbers at the field, «lucky numbers» are activates. They are three random numbers of twenty picked by random number generator. If you guess them all, bonus feature begins.
Multiplier Wheel – the fortune wheel moves to the center of the screen. You have to spin it to find out which prize you win. Multipliers imaged at the sectors vary from x4 to x100. They are multiplied by the current bet.
General rules of the bonus game are clear even for very beginner and don't require any special knowledges or skills.
World Cup Keno Interface
First you see tips by the game at the screen. Then the main gaming field appears. You will see following elements at the control panel:
Bet – select an amount of the bet;
Balance – state of the balance;
Win – an amount of the win;
Patterns – patterns;
Clear – remove all from the field;
Play – start the game;
Quick Play – speed up the gameplay.
A table with two columns is situated at the right of the field:
Hits – quantity of winning numbers; 
Win – an amount of the payoff per round/
A plus at the left of the control panel opens the menu with following sections:
Maximize the screen;
Switch off the sound;
Help;
Pay table.
It is also possible to play in automatic mode with adjustable limits.
You don't need to download «World Cup Keno», because you can play in browser at the casino's website.
This keno has been adapted for smartphones. You can comfortably play in mobile casino on touchscreen.
Conclusion
In conclusion of the article, we would like to list major advantages and disadvantages of this keno.
Pros: actual topic, convenient interface with diverse features and settings, nice graphics.
Cons: too low RTP.
Obviously, we can't recommend «World Cup Keno» to our readers due to low theoretical payback. Actually, 80% is one of the worst indexes of all online gambling games ever tested by our experts.
If you decide to take a risk and play «World Cup Keno», we recommend to pick ten numbers. In this case you get three Lucky Numbers at the field, that gives a chance for bonus feature.
Play World Cup Keno in Indian Casino for Real Money
It is possible to test «World Cup Keno» free or play for real money in online casinos working with PariPlay. Best of them are presented below the review.
Please share your opinions about this model in comments. You are welcome to write responses and score the game.
P.S.
Football slots
, released to the World Football Cup 2018 in Russia, are discussed in our article by links and individual reviews.