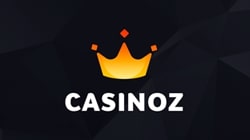 Isle O'Plenty Isle O'Plenty slot Review
Welcome to the island where a red-bearded leprechaun is living at. During long years of his life, making shoes for other fairy-tale characters, he has saves lots of golden coins, which he hides in a ceramic pot now. Where is the treasure hidden? According to the legends, it is at the edge of the rainbow.
However playing on «Isle O'Plenty» slot machine developed by IGT, you don't need to search it there. Here it is a progressive jackpot, available for any customer playing by real bets. Please read about this and other features below in the review by Casinoz.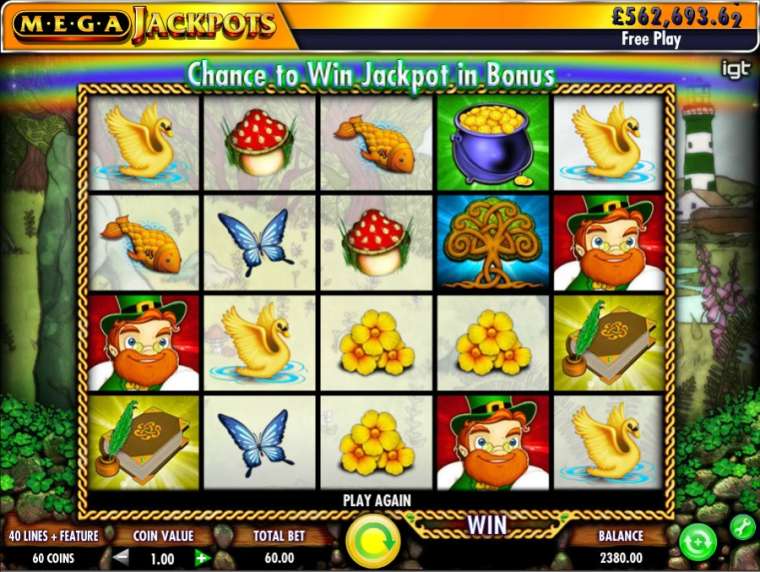 How to Play Isle O'Plenty slot machine
«Isle O'Plenty» is a slot machine with five lanes of symbols and twenty icons at the main screen. To say that it has five reels wouldn't be correctly, because symbols are spinning separately in every cell.
Playing «Isle O'Plenty» is possible by all forty active lines only and place equal bets per each of them. The slot accepts 1, 2, 3, 5, 10, 20, 25, 30 or 50 credits per each of the lines. Moreover, it is necessary to place twenty coins as a bonus bet. This way, it is possible to stake from sixty to three thousands credits per spin.
This model is provided with basic symbols, special elements, a progressive jackpot, free spins with advanced features and other unique gaming options.
The standard symbols win making solid chains of several same elements at the same active line. To form a combination you need to hit three, four or five icons of the same kind. If your combination consists of four or five images, only the most valuable one is paid.
An amount of the payoff is calculated by the bet per line and the index of formed combination. It can be from x5 to x1000 in «Isle O'Plenty». These parameters are multiplied. All credits received by results of the spin are summarized and immediately transferred to the player's account. The gambling feature is not provided by the rules.
The theoretical payback index of this slot machine depends on amount of the jackpot. For example, when it is a half of a million credits in gaming currency, this index is just 90,99%. But when the jackpot rises up to one million, it is increased to 92,97%.
To note here, this game has limits for the maximal payout in one round (except of jackpot cases). But please don't worry about that, the maximum is really high - twenty five millions credits.
Isle O'Plenty Symbols, Wild, Scatter
Except of the main hero and his gold, you can see fishes, birds, flowers, an ancient book and other colorful images at the screen of this slot.
This game also offers such special symbols as Wild (an appropriate title), Mega Jackpots (golden coins) and Bonus (a wider tower). Please read more about them.
Wild can replace standard symbols in combinations. Moreover, it trigged Wild Rush feature when it drops out at the screen. It means the elements under this symbol can turn into Wild. So, vertical stacks of Wilds are made to increase chances for numerous combinations.
Jackpots is used for drawing of the progressive jackpot described below.
Bonus appears at the third reel only. When two, three or four such symbols appear there, six, twelve or twenty four free spins begin. An amount of the bet remains the same, but the casino pays it.
Free spins can be prolonged up to two hundred forty rounds. Please read more about it in the payment table.
Jackpots
«Isle O'Plenty» draws a
progressive jackpot
of MEGA series. It is possible to fight for it playing by real bet of any size. Herewith, higher the staked amount, higher your chances to win the jackpot are. According to the rules, relation of the bet and chances are proportional.
The jackpot goes to the player who gets four bonus symbols at the central reel during free spins or the basic game. Second Chance feature is activated in every spin, which didn't bring you jackpot. In the other words, the customer gets another chance to become an owner of the jackpot.
Isle O'Plenty Interface
Now a couple of words about functions of different elements of the control panel of this game:
Coin Value – select the coin value.
Total Bet – an amount of the total bet per spin.
Win – an amount of the win in a round.
Balance – a state of the gaming account.
Paytable – open the pay table.
Game Rules – rules of the game.
New spin is launched by the round button in the center of the control panel. Spinning reels can be stopped in advance. The automatic game mode is available.
It is possible to set up the sound, the screen and the graphics.
The rules are explained in the pay table and the informational section. The first option offers visual description, while the second explains all in more details.
It is not necessary to download this slot machine, because it can be launched right in a browser.
Conclusion
We hope you gonna like «Isle O'Plenty». This slot is quite spectacular and very interesting on our opinion, because it has lots of different features. It should be noted that the theoretical payback of this model is quite low for minimal some of the progressive jackpot. However it rises up a lot when the progressive amount is getting higher. So, it is quite an attractive game for those who like to chase the jackpots.
Play Isle O'Plenty in Indian Casino for Real Money
You can look for this novelty in different online casinos powered by IGT software. There are lots of such portals in the web now. Our experts were testing «Isle O'Plenty» at MrGreen.com in a demo mode. You can find video review of this slot at Casinoz.
Please write your responses about this slot in comments. Your rates with stars are also welcomed.