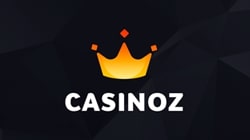 Red Queen Blackjack

How to Play Red Queen Blackjack
Red Queen Blackjack is an American blackjack played using six decks. Each of them consists of fifty-two cards without jokers. Cards are obligatory shuffled before each deal. Discarded cards are not placed into the discard tray, despite the fact that visually they're present there.
It is allowed to bet on one, two, or three boxes. Users can wager from five cents to two hundred and fifty credits per hand in the gaming currency. Bets on different boxes may vary.
In fact, the rules according to which players hit, score is calculated, and hands are compared seem to be standard. You should beat the dealer by gaining a higher score. It is prohibited to exceed twenty-one. Suits are not taken into consideration.
Terms and conditions of this kind of blackjack are discussed in a separate article on our website. This review covers only the features of exclusively this model:
The croupier initially deals two cards, revealing only one of them.
If the upcard is an ace or any ten-value card, he checks for blackjack.
If the dealer has blackjack, the customer loses (except for cases when the player has blackjack).
The dealer stands on any 17 (hard or soft).
If both participants have equal scores, a push is announced and the bet is returned.
It is allowed to split once per box.
Users may split ten-value cards.
One card is added to split aces.
It is allowed to double on split boxes.
Gamblers may double on any cards.
It is prohibited to surrender.
If the dealer has a face-up ace, it is possible to take insurance against blackjack.
There are the following payouts:
Ordinary hand - 1:1
Blackjack - 3:2
Blackjack with a red queen- 2:1
Insurance - 2:1
According to developers, if you play Red Queen Blackjack taking into consideration the optimal strategy, you can reach the theoretical payout percentage of 99.8%.
Red Queen Blackjack Bonus games
The only bonus option that is available in this model is the 2:1 multiplier for blackjack with a queen of hearts or diamonds.
Red Queen Blackjack Interface
Despite the fact that all buttons are marked with intuitively understandable symbols that help users to understand their functions, we should rather explain the basic interface features:
New Bet allows making a new bet
Rebet Chips is used to repeat the previous bet
Deal allows receiving cards
Clear Chips is used to remove chips
Hit is used to take another card
Stand is used to stop taking cards
Double is used to double the bet
Split allows dividing cards into two hands
Insurance is used to take insurance against blackjack
Games provides information about other games
Stake shows the total bet per round
Min/Max shows the betting range
History show the history of bets
Options shows settings
Info shows data on this game
Chips whose denominations vary from ten cents to one hundred credited are used to make bets. It is necessary to choose any of them and click on the sector one or several times with the mouse.
The history can be seen only in games for real money.
The section with data on the game is available in a separate tab. It contains the necessary information about the rules, interface, and so on.
Options allow turning off the sound and selecting graphics quality. Gamblers are also authorized to choose the most convenient screen size.
There is no need to download Red Queen Blackjack. You can open it directly in the browser.
Conclusion
You have surely appreciated the advantages of this model, although you will hardly be able to fully understand how good it is without testing it. We are not going to enumerate the advantages of Red Queen Blackjack once again. The game is really spectacular, convenient, and pleasant in all respects.
The rules do not seem to be quite favorable, but the significantly increased payout for blackjack that includes a queen of red suit greatly elevates the chance to succeed. Later we will publish a table of optimal strategy with the explanation of all rules on the site Casinoz. At the moment, gamblers may use common recommendations on blackjack published in the
specialized section
.
Play Red Queen Blackjack in Indian Casino for Real Money
This model is offered at various casinos that are cooperating with 1x2 Gaming. Not all of them have included Red Queen Blackjack in the list of available games, but many establishments provide an opportunity to test this blackjack without registration and bet money after opening an account. Users can choose the most appropriate casino with the help of our reviews.
Don't forget to leave your opinion about this game while testing it. Your opinion is very important to us. Use asterisks to rate this model.