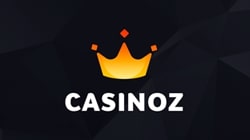 Surrender Blackjack Surrender Blackjack Review
Surrender is a point of rules which allowed to refuse playing by half of the bet place on some of the hands in some special situations in blackjack. Professional gamblers use this feature skillfully reducing math advantage of the casino a lot with its help. It is the reason why such types of blackjack are not presented in every online casino.
In the following review we are going to tell you about «Surrender Blackjack» model, which was developed by the specialists of GameScale company. It has quite beneficial rules, a convenient control panel, a multi-language interface and various settings. Please find details in the following review by Casinoz.
Rating
Excellent
8.60 /10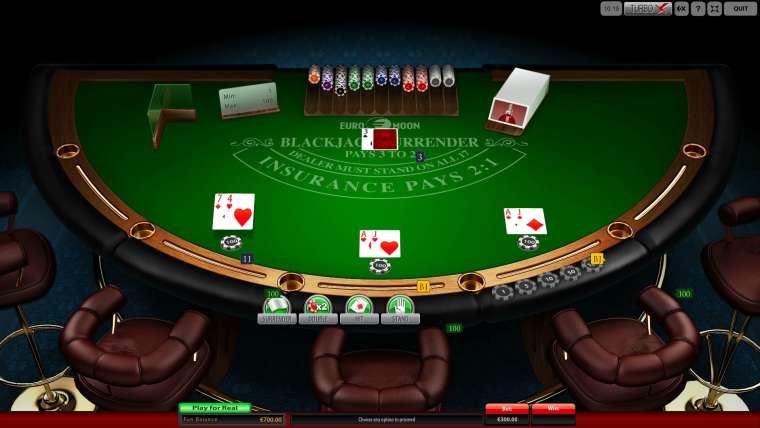 How to Play Surrender Blackjack
«Surrender Blackjack» is
American type of this game
, with eight standard decks of fifty two cards each. There are no jokers. All cards are shuffled before each deal (even if some of the cards are in the shoe visually).
The aim of the game is to win the dealer and get more points than he has never exceeding twenty one. Payoffs can be also won on croupier's buster or by the insurance of blackjack.
It is allowed to play on one, two or three hands. It is possible to stake from one to one hundred euro per each of them. It is allowed to place different bets on each of the boxes.
The general rules of blackjack are carefully explained in the special article at Casinoz. We would like to touch only the main points connected with «Surrender Blackjack» by GameScale below:
The dealer deals two cards to himself and reveals one of them.
The croupier checks for blackjack in case of an open ten or an ace.
Surrender is allowed on any points of the customer and any face-up card of the dealer (if he has no blackjack).
Double is possible on any cards, as well as after split.
Split is possible on two cards of the same value (including different cards of ten point value).
It is possible to split cards only once on each hand.
Insurance is suggested in case of an ace on the dealer's hand. The player has to make a decision by all boxes and the croupier checks his cards after. If he has a blackjack, other cards are not dealt.
Payoff indexes are standard: 1:1 by the regular winning box, 3:2 by blackjack, 2:1 by the insurance and tie game in case of equal cards.
If the player gets twenty one, he can't hit on the box.
Surrender Blackjack Interface
This game is provided with the multi-language interface. In general, the control panel is user-friendly.
To place the bet, you need to choose a chip of appropriate value and click at one of three fields.
Controlling buttons of «Surrender Blackjack» replace each other depending on situation. It is possible to repeat the bets of the previous round.
There is an informational line with current information by the game in the bottom part of the screen: an amount of the bet, balance, tips and win.
You don't need to download and install any special software, because «Surrender Blackjack» can be launched right in a web browser.
Sound and screen parameters are available. It is possible to activate the turbo mode with deactivated animation that makes the gameplay faster.
If you hover the mouse on the table with betting range, you'll a window with amounts of the payoffs. In the informational section («?» button) you can find details of the rules and description of various features of this model.
Conclusion
«Surrender Blackjack» offers truly beneficial rules. We are not ready to say the exact payback index, which you can get playing by the optimal strategy, but even superficial look at all features lets us say that this model is worth your attention.
Its other advantage is the lovely design, the realistic animation, numerous settings, the multi-language interface, quick loading, low requirements to the productivity of your computer and Internet speed.
Recommendations by blackjack can be found in the special department of our website. It can be useful both for the beginners and the experienced gamblers.
Play Surrender Blackjack in Indian Casino for Real Money
You can find «Surrender Blackjack» and other card games by GameScale in EuroMoon casino and at other portals powered by the software of this brand. Here you can test the model in a fun mode.
We appreciate readers' responses about «Surrender Blackjack». Please share your impressions in comments to the article and rate this game.